CEO & Founder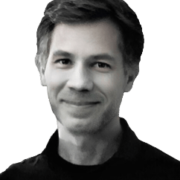 Cyril de Beugny has been the founder and CEO of DealFabric since 2016. He is responsible for product development and customer consulting and support services.
In 2009, Cyril founded Influence, a consulting and services company specializing in BtoB marketing and sales, which he still chairs. Cyril has also held various management positions with software publishers such as Oracle and Business Objects, and with Anglo-Saxon consulting firms such as Ernst & Young, Protiviti (ex-Andersen) and Deloitte, for whom he managed ERP and CRM deployment projects for a dozen major international accounts and some thirty SMEs and startups.
Cyril holds a Master's degree in Economics from Université Paris 1 Panthéon-Sorbonne and the Strategic Marketing Executive Program from London Business School.
Twitter : @cbeugny
Linkedin : https://www.linkedin.com/in/cyrildebeugny/